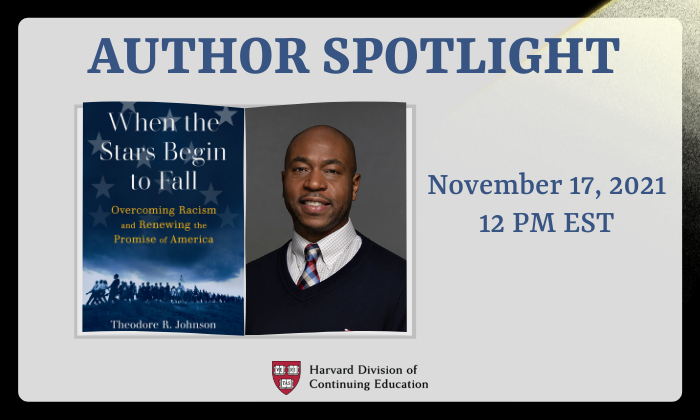 Join us for our Author Spotlight Series featuring Harvard Extension School alum Theodore R. Johnson ALM '11. Johnson will discuss his new book "When the Stars Begin to Fall: Overcoming Racism and Renewing the Promise of America" and answer your questions live.
About the book:
A bold, thought-provoking pathway to the national solidarity that could, finally, address the ills of racism in America.
"Racism is an existential threat to America," Theodore R. Johnson declares at the start of his profound and exhilarating book. It is a refutation of the American Promise enshrined in our Constitution that all men and women are inherently equal. And yet racism continues to corrode our society. If we cannot overcome it, Johnson argues, while the United States will remain as a geopolitical entity, the promise that made America unique on Earth will have died. Read more.
About the Author:
Theodore (Ted) R. Johnson is the director of the Fellows Program at the Brennan Center for Justice. His work explores the role that race plays in electoral politics, issue framing, and disparities in policy outcomes. Previously, he was a national fellow at New America and a research manager at Deloitte. He is also a retired commander in the U.S. Navy following a two-decade career that included service as a White House fellow, military professor at the U.S. Naval War College, and speechwriter to the chairman of the Joint Chiefs of Staff.
Johnson holds a BS in mathematics from Hampton University, an ALM with a concentration in international relations from Harvard University, and a doctorate of law and policy from Northeastern University.
Location
Virtual Event
Date
November 17, 2021
Time
12 PM EST