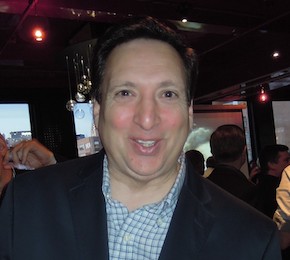 I'm very aware of the interest shared by many HES alumni for stronger connections with Harvard and other members of the HES community.
I'm confident that by sharing the knowledge I gained through my experience as the chair of the HEAA New York City Chapter, I can help other local chapter leaders create value for their chapter members and achieve their chapters' goals.
I understand that other local chapters may not want or need a duplicate of the NYC Chapter. What's important is what works best for each local chapter.
Strategic Goals: While I served as the chair of the NYC HEAA Committee, we identified four strategic goals: 1) Build the HES community; 2) Bring Harvard resources to the chapter; 3) Spotlight HES alumni, faculty and staff; 4) Have Fun.
Think Big: These strategic goals resulted in innovative live and virtual events intended to appeal to a broad number of the HES community.
Think Small: Since leaving office, I've continued to work to expand the capabilities of the NYC Chapter to engage smaller groups of the HES community more frequently than we can as a chapter as a whole with little or no cost to Harvard .
See below for examples of Think Big and Think Small.
Synergy: Combining large scale and small scale capabilities results in a Four Capabilities Model (see illustration in resume section). These capabilities include: 1) Chapter-wide live events; 2) Chapter-wide virtual events; 3) Shared Interest Groups (SIGs) based on personal interests that can meet more frequently than the chapter as a whole; 4) Posts to chapter Facebook group several times a week. Focusing on the best features of each capability has the potential to create synergy. Note: SIGs are still in the planning and experimental phase.
Tools: Tools used by the NYC committee that support a capabilities based strategy include a strategy planning process, a list of potential venues and guest speakers, event budgets and joint strategy meetings with the Office of Advancement staff.
Relationships: Equally important, while the NYC chair, I developed relationships with the staff of the Office of Advancement staff, and other HEAA leaders.
Examples of Think Big:
Live Events: The first year that I served as chair of the NYC Chapter included two guest speaker events in Manhattan- Linda Spencer from Harvard's Center for Career Development presented on the importance of networking, and Sabrina Wood led a LinkedIn Workshop.
During the last week of August 2019, we enjoyed a beautiful sunset sail around NYC Harbor and the Statue of Liberty.
Our last live event was a Farewell Party for Dean Lambert at the New York City Harvard Club organized by the Office of Advancement. A highlight of the event was presenting Dean Lambert a crystal apple from Tiffany's engraved with the HES shield. Dean Lambert's party was the largest HEAA event outside of Cambridge- ever.
Virtual Events: When the Covid pandemic forced HEAA to pivot to virtual events, the NYC HEAA Committee saw adversity as an opportunity to Think Big. We designed virtual events for a broad population of the HES community.
New York City's first virtual event included recognizing new HES graduates welcoming them to the HES community, and job search resources available from Harvard for alumni displaced by the pandemic.
The New York City Chapter's second virtual event in October 2019 featured Garv Gianchetta, an HES alumnus who's a professional financial advisor. Over 800 members of the HES community across the globe registered for this event.
The Office of Advancement organized the following two virtual events on behalf of the New York City Chapter. In January 2020, HBS assistant professor Ashley Whillans presented a virtual event on how to live a happier life. During a virtual event in March 2020, HES instructor Peter Marber spoke to the HES community on the global economy after Covid.
Examples of Think Small:
Posting news about the HES as well as Harvard University's vast resources several times a week on the New York City Chapter's Facebook has proven to be successful way to connect with small pockets of the HES community frequently.
Shared Interest Groups: SIGs are not intended as smaller versions of chapters, SIGs will be small groups based on a shared personal interest. The SIGs' smaller populations and shared interests will enable them to meet in casual settings more frequently than a chapter can meet as a whole. This will help strengthen relationships within the HES community while requiring fewer resources with little or no financial support from Harvard (SIGs are still in the planning and experimental phase).