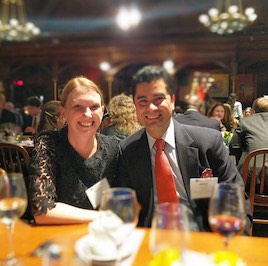 Arturo and I met while working next door to each other in downtown Boston. His co-worker talked him up by saying, "oh you should meet Arturo" – he goes to Harvard! Harvard Square was home to some of our first few dates, and Arturo introduced me to Harvard Extension School. The rest, as they say, is history.
We coordinated our schedules so that most of our classes were at similar times, and commuted together on the red line. We were married in August 2008 and graduated one semester apart in fall 2008 and spring 2009.
We're extremely fond of our time at HES and can say with great certainty that it's helpful to have a supportive partner working towards a degree at the same time. We still live nearby, and we've brought our four kids to campus a handful of times to see where we spent so much of our first few years together!
Heather Friedmann ALM '09
HEAA Director of Regional Engagement