By Chrissy Natoli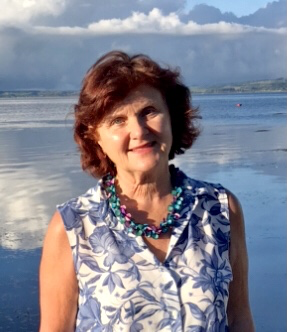 Judy Boyle ALB '92 is the founder of The NO Project – an award-winning, global educational campaign against human trafficking and modern slavery. Judy has completed two degrees at Harvard University. Inspired by her studies at HES, she went on to complete a Master's in Education from the Harvard Graduate School of Education. She tells us why she is HES Proud! Learn more about Judy's incredible story below.
Tell us about your background
I was born and raised in New Zealand-Aotearoa, and after many years the UK and USA, I am now based in Southern Europe. I have been involved in young adult and adult education for over 30 years as a teacher, a trainer, and an author. My background also includes professional theatre – from comedy improv' to Shakespeare. More recently, I have directed and produced It's Just Business, a surreal short against human trafficking – with an unexpected point of view.
Why are you #HESProud?
I am #HESProud and have been so ever since I graduated over thirty years ago. I loved every minute of my years on HES 'night campus' and am so proud to still be part of the community. Something I will always remember from back then, was the constant generosity of my fellow classmates and faculty members. The impact of their kindness, good humor and support will remain with me forever. But beyond the inspirational courses, mesmerizing lectures and my (surprisingly!) good grades, something else happened while I was at HES.
I am still not exactly sure how this came about, but without question, my confidence to trust my gut instinct and my courage to confront and investigate tough issues increased with every course I took. This has stayed with me forever and I know it drives me to do what I do. I can't thank you enough HES. You changed my life.
What is The NO Project?
The NO Project is an award-winning, global anti-slavery campaign that specifically targets young adult and adult awareness of modern slavery and human trafficking through film, music, art, dance, theatre, journalism, creative writing, education and social media. The NO Project is 100% non-profit. We rely on the generosity and donated time, talent, energy, passion and resources of educators, academics, researchers, journalists, artists, filmmakers, musicians, and of course, students.
Why do you focus on education of youth and young adults?
Youth today are the future policy makers, leaders, educators, and consumers of this century. They will be the agents of sustainable change. Only through well-informed, pro-active, non-sensationalist understanding of the crime will the next generation be able to confront slavery – be it through governmental policy, corporate legislation, supply chain transparency or ethical consumer behavior.
The perpetuation or eradication of modern slavery lies in the hands of the next generation, yet for the most part, mainstream education does not yet include knowledge of this injustice – hence the work of The NO Project.
How does The NO Project interact with educators and students?
We provide multi-media educational seminars to educators and students around the world – online and in person. The NO Project site also hosts award-winning, free downloadable teaching material that focuses on forms of human trafficking and slavery, such as domestic servitude, forced marriage, slavery in supply chains, grooming, and recruitment for commercial sexual exploitation. The educational material includes true narratives, teaching guides, films, and further resources. The resources are designed to be used by both first and second language speakers of English. We are thrilled that the lessons have been downloaded thousands of times and were used for online classes during the pandemic.
*Please note – these educational resources are intended for people aged 16 and above.
How did you first become aware of human trafficking?
To be honest, even though I remember the moment like yesterday, this is not something I usually talk about as it refers to suicide of a young woman– so please skip over this part if needed.
Twenty-two years ago, someone happened to hand me a Sunday newspaper saying, 'I think this article might interest you.' That was it. My life changed that winter afternoon.
The article was about the crime of human trafficking for the purposes of commercial sexual exploitation. It spoke of a young woman, just 18 years old, who hanged herself in a toilet, using her own stockings.
That was nearly a quarter of a century ago. She would be forty today.
Who knows what lies and false promises her traffickers had used to groom or recruit her – or how many clients she'd been forced to have hour after hour, day after day.
So, what did you do?
Learn. And learn and learn – which was not easy way back in the days of dial-up internet. I can't go into detail, but I have seen and learned first-hand what human trafficking involves.
The backstory to daily products and services
As you come to know more about the reality of human trafficking and modern slavery, the world shows up very differently. In general, we do not 'see slavery' but we are complicit in that this injustice lies in the supply chain of so many of our daily products and services.
Think about the chocolate cookie you just enjoyed. Child slaves may be forced to work on the plantation that sourced the cocoa for that cookie. Those children are thousands of miles away, but the cookies are in your cupboard. The frozen seafood you bought for dinner – that might have been sourced by abused, violated men who have been trapped on the same fishing boat for possibly years. And what of that lovely handmade rug you bought for your home? Did tiny fingers of child slaves weave the rug? As an artist working with The NO Project once said – 'Why would you buy an item of sadness for your home?' (now see www.goodweave.org)
The good news is that thousands of people and organizations around the world are taking action in many ways – but so much has yet to be done.
Please check out The NO Project site to learn more www.thenoproject.org
2023-24 Global outreach through a surreal short film: It's Just Business
It's Just Business is a surreal short film that radically documents the global crime of human trafficking and modern slavery. The film is dreamlike, gentle, non-linear – but the point of view is unexpected, disturbing. (www.itsjustbusiness-shortfilm.com)
In 2016, Francesca Bracci, a 16-year-old high school student from Italy attended The NO Project multi-media seminar in her school. On learning about the crime, she wrote one of the most powerful poems against modern slavery that I've ever heard. Francesca's spoken-word poem of the same title is the inspiration and basis of the film, It's Just Business.
It's Just Business is a co-production between Greece and Aotearoa/New Zealand. As the Director, I am honored to have collaborated with gifted, compassionate New Zealand Film Editor, Annie Collins, who worked on all Lord of the Rings productions. Annie was also on the Oscar-winning team for Best Film Editing for Lord of the Rings: The Return of the King.
It's Just Business has already been accepted to international film festivals including Human Rights and Experimental film festivals in Spain, Italy, Nepal, Peru, Germany and USA.
In 2024 It's Just Business can finally go public! Our goal is global distribution through social media platforms, streaming platforms, and coverage on international and national news channels. Please no matter which country you are in, if you have expertise in any of these areas and would have time to talk, please do get in touch with me.
How can people contact you?
The NO Project is a tiny team. We cannot do this alone – we need your help! Please contact me – I'd love to hear from you. judy@thenoproject.org
And in the meantime, here are some books I strongly recommend.
Girls Like Us by Rachel Lloyd
Shame by Jasvinder Sanghera
Blood and Earth by Kevin Bales
Cobalt Red by Siddharth Kara
A Walk Across the Sun by Corban Addison
The Outlaw Ocean by Ian Urbina