By Chrissy Natoli
October 28, 2023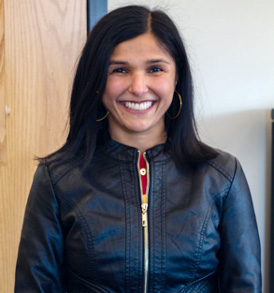 Priya Tahiliani ALM '13 (HEAA Director) currently serves as Superintendent of the Everett Public Schools. Prior to joining the Everett school system, Priya worked in the Boston Public Schools for 19 years, first as a middle and high school teacher for 15 years, and then as a school and district administrator for 4 years. Priya holds a Bachelor of Arts and a Bachelor of Science from Boston University, a Masters of Liberal Arts from Harvard Extension School, and is currently pursuing a doctorate in Urban Educational Leadership from the University of Phoenix. The daughter of Indian immigrants, education has always played a critical role in her life; and as an English learner in the public school system, she gained a deep appreciation for the work done by educators in order to ensure that every student succeeds. She resides in Brookline with her husband and two sons in a home that is overrun by ice hockey equipment.
We spoke to Priya about what inspires her, what she hopes to accomplish as a Director of the HEAA Board of Directors and more!
As a Director of the HEAA Board of Directors, what do you hope to accomplish during your tenure?
I hope to support other alumni and current students in furthering themselves professionally, building networks with one another, and eventually emerging as leaders both in their careers and in service of their communities.
What do you enjoy most about volunteering for this role?
I have only been on the board for a few short months, and I have learned so much already. It has been such a wonderful and uplifting experience. What I have enjoyed most is connecting with other HES Alumni from all parts of the world who are doing so many interesting and amazing things. HES graduates are amongst the most diverse alumni groups at Harvard and this group of board members is no different. It is an incredibly diverse group of people, and yet we all have a shared passion for giving back to the Harvard community.
What impact do you hope to have on the HEAA community?
The HEAA is an incredibly vast and engaged community. I want to do my part to increase opportunities for collaboration and networking, to establish and implement new and exciting initiatives, and to celebrate our alumni. Since I am local, I also hope to have a hands-on impact. I would love to support the other board members and the Office of Advancement as they continue the great work they have been doing for so many years.
What opportunities did your HES Degree unlock for you in your professional and personal life?
As a result of my degree, I was able to pursue opportunities to become an educational leader. I currently serve as a superintendent of a K-12 school district, which turns out to be my dream job. However, before HES, I never would have dreamed that such a role was attainable for me. Even more significant than the content I learned or the degree I earned was the confidence that I gained during my journey. It was at HES that I realized that I could set goals I had never previously imagined and actually achieve them!
If you could live anywhere in the world for a month free of responsibilities where would it be and what would you do there?
That's easy. Hogwarts. I would drink butterbeer and play Quidditch. Wait, does this have to be a real place? Then, I would live in Paris, where I would immerse myself in the culture, learn French, read in cafes, eat amazing food, and drink champagne (although I would still prefer butterbeer).