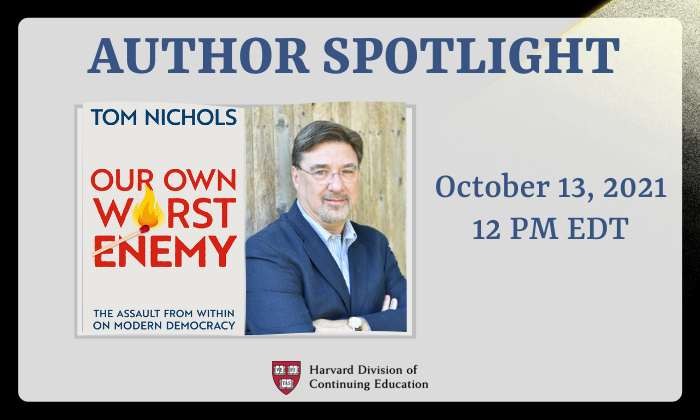 Join us for our inaugural Author Spotlight Series featuring Harvard Extension School instructor and noted author Tom Nichols. Professor Nichols will discuss his new book "Our Own Worst Enemy: the Assault from within on Modern Democracy" and answer your questions live.
About the book:
In Our Own Worst Enemy, Tom Nichols challenges the current depictions of the rise of illiberal and anti-democratic movements in the U.S. and elsewhere as the result of the deprivations of globalization or the malign decisions of an undifferentiated "elite." Rather, he places the blame for the rise of illiberalism on a different source: the people themselves. Read more.
About the Author:
TOM NICHOLS is Professor of National Security Affairs, US Naval War College, a columnist for USA Today, and a contributing writer at The Atlantic. He is the author of The Death of Expertise (Oxford 2017), No Use: Nuclear Weapons and US National Security (2013), and Eve of Destruction: The Coming Age of Preventive War (2008). He is also an instructor at the Harvard Extension School and an adjunct professor at the US Air Force School of Strategic Force Studies. He is a former aide in the US Senate and has been a Fellow of the International Security Program at the John F. Kennedy School of Government at Harvard University.
Questions? Contact alumni@extension.harvard.edu
Location
Virtual Event
Date
October 13, 2021
Time
12 PM EDT