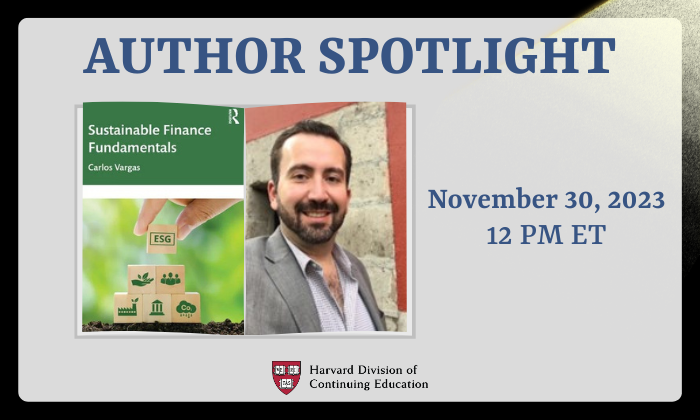 Join us for our Author Spotlight Series featuring Harvard Extension School alum Prof. Dr. Carlos Vargas ALM '13. Vargas will discuss his new book "Sustainable Finance Fundamentals" and answer your questions live.
About the book:
Sustainable Finance Fundamentals provides an accessible overview of this critical, rapidly growing area at the intersection of finance and sustainability.
The first part showcases different approaches to sustainable finance, covering banking, impact investing, integrated reporting and strategy, and risk management. The second part covers investing, including equity, green bonds, and crowdfunding. In the final part, issues beyond sustainable finance, such as alternative investments, renewable energy, and innovation, are explored. In addition, two optional appendices provide useful introductions to the time value of money (TVM) and financial statements.
Ethical and regulatory issues are addressed holistically throughout the book and sustainable finance is linked to related topics, such as environmental economics and the UN Sustainable Development Goals. Each chapter has an international focus and features examples, "in a nutshell" summaries, and discussion questions.
Whether you are a student or professional, Sustainable Finance Fundamentals is essential reading for anyone looking to gain a comprehensive understanding of sustainable finance, impact investing, and related areas. Lecture slides and teaching notes are also available for instructors, making this book an ideal text for courses on sustainable finance.
About the Author:
Carlos Vargas is a Professor of Finance at EGADE Business School at Tecnológico de Monterrey in Mexico, and an Instructor of Sustainable Finance at Harvard University DCE. He has experience in sustainable finance, renewable energy, financial analysis, business planning, development economics, and real estate finance. Vargas was formerly chief financial officer for New Evolution Ventures Mexico, a subsidiary of an investment fund that manages more than 1,000 health and fitness facilities worldwide, and chief operating officer for the Vertex Companies, USA, where he helped manage and consolidate the energy services portfolio to gain increased revenue in the first year. He managed the real estate investment portfolio at BBVA Asset Management, Mexico, and implemented strategic plans for several shopping centers and department stores for Liverpool, Mexico.
Vargas holds a Ph.D. from the University of Zurich, Switzerland, an MBA from IPADE Business School in Mexico, and an ALM from Harvard Extension School. His Ph.D. dissertation covers the assessment of diverse issues through dynamic financial valuation methodologies, such as the development of agricultural projects in Latin America, investments in residential solar photovoltaic (PV) technologies in California, and the recycling of solar PV panels. Vargas has written financial editorials for influential newspapers and has been invited to guest lecture at the University of Massachusetts, Boston; Babson College; and several universities in Europe and Latin America.
Thursday, November 30, 2023
12:00 p.m. – 1:00 p.m.
Platform: Zoom
Questions? Contact alumni@extension.harvard.edu