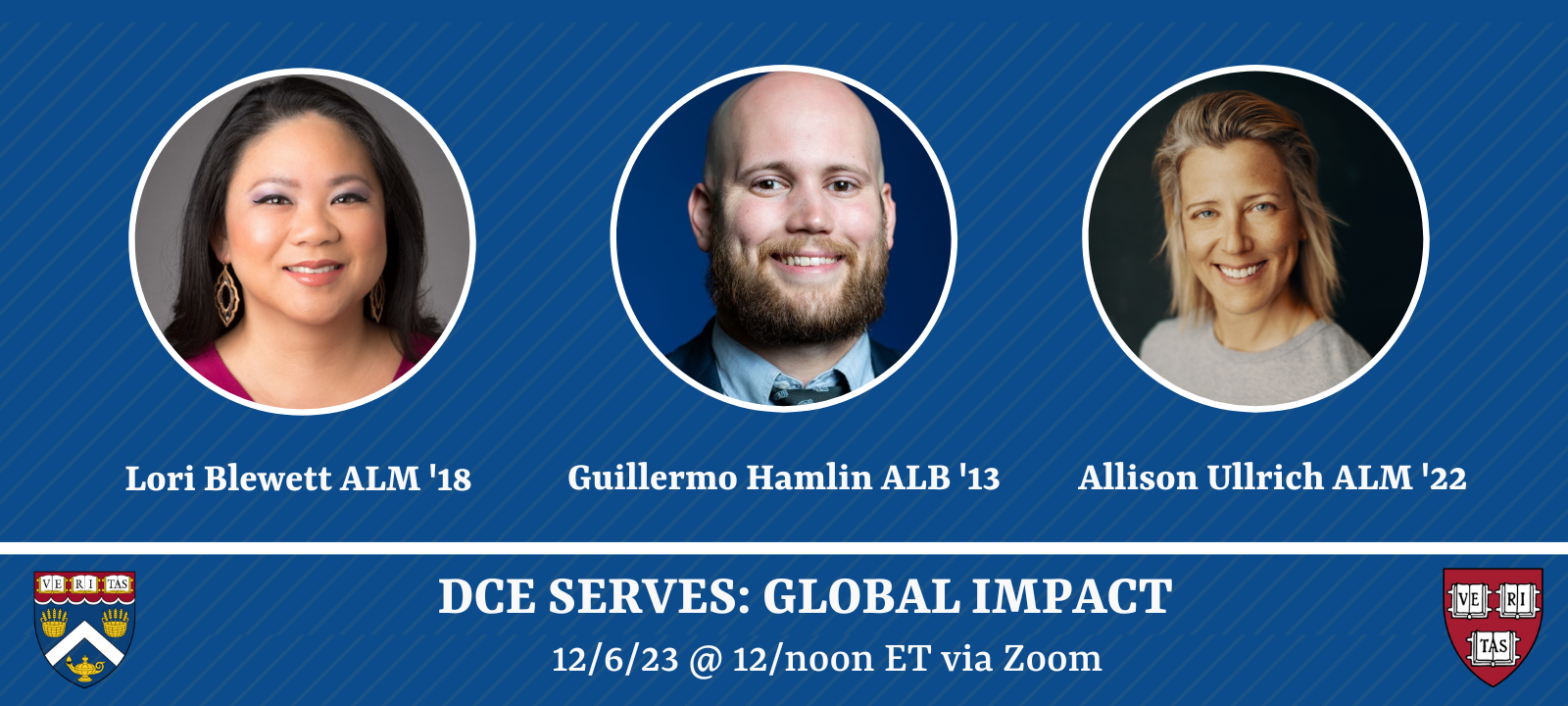 Join the HEAA and HDCE Office of Advancement virtually for "DCE Serves: Global Impact" on Wednesday, December 6th at 12/noon ET.
In this season of gratitude, giving and service, 'DCE Serves: Global Impact' celebrates our community members' profoundly impactful work in addressing local and global challenges. This event will be moderated by Jill Felicio ALB '00, ALM '13, Director of Advancement and she will be joined by panelists:
Lori Blewett ALM '18: Lori is the director of communications for St. David's Episcopal Church in Austin, Texas. She has the honor of sharing St. David's 175-year legacy of addressing community challenges through church volunteers and ministry. One example is the founding of St. David's Hospital which has grown to more than 100 sites, one of the largest in Texas, and a hospital foundation, one of the largest in the United States, which gives more than $80 million back into the Austin-area community each year. Additionally, she is the Chair of the HEAA Texas Chapter.
Guillermo Hamlin ALB '13: Guillermo is a Multimedia Support Specialist for Tufts Technology Services in Medford, Massachusetts. After graduating from Harvard Extension School, he became involved as a board member of the Harvard Latino Alumni Alliance. He worked with other alums to establish its SIG & 501c3 status, regularly served the Greater Boston Chapter, and actively volunteered with Latino Mini reunions on-campus & Thanksgiving Pachanga off-campus. He currently serves on the HEAA Board of Directors and is committed to bridging these two groups.
Allison Ullrich ALM '22: Allison is an experienced, transformative executive who mentors individuals and guides international Supply Chain and Operations teams to scale, collaborate and effectively communicate while empowering and embracing cultural differences to unlock professional milestones and personal development. Additionally, she is an HEAA Board member in her first term.
During the session, we will invite YOU to share how your work or passion project impacts your community, region or industry. This is a unique opportunity to learn, share, celebrate and inspire one another.