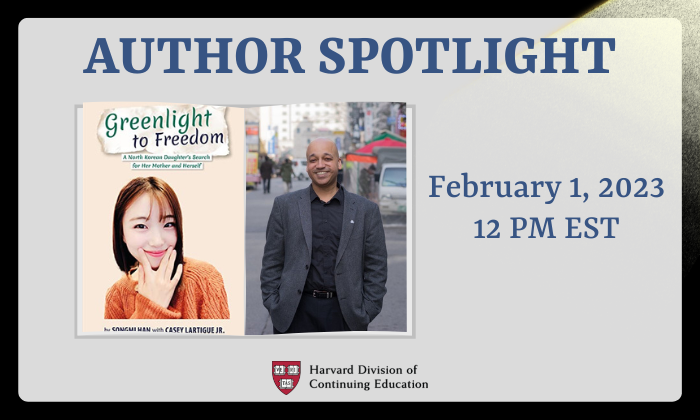 Join us for our Author Spotlight Series featuring Harvard Extension School & Harvard Graduate School of Education alum Casey Lartigue Jr. ALB '89, EDM '91. Lartigue will discuss his book "Greenlight to Freedom: A North Korean Daughter's Search for Her Mother and Herself" (co-authored with North Korean refugee Songmi Han) and answer your questions live.
About the book:
Like much of the North Korean population, Songmi Han was living in desperate poverty. As a young child, she and her family lived a life of dire hardship, and many meals consisted of little more than grass. Domestic abuse, long hours of grueling physical labor, emotional abuse, and primal hunger were her constant companions. School was out of the question and she, along with her mother, had to steal food to survive. Greenlight to Freedom: A North Korean Daughter's Search for Her Mother and Herself, written by Songmi Han and Casey Lartigue Jr, is the perilous and gripping account of Songmi's childhood and her escape from North Korea. Read more.
About the Author:
Casey Lartigue Jr. is an advocate and activist for educational freedom who has gained recognition in both South Korea and the United States. He is now based in South Korea where he is co-founder and co-president of Freedom Speakers International (formerly the Teach North Korean Refugees Global Education Center) along with South Korean researcher Lee Eunkoo.
He is the 2017 winner of the Special Contribution Award presented by the Hansarang Rural Cultural Foundation, the 2018 winner of the Challenge Korea (Global) Award, the 2019 winner of Challenge Korea's Challenge Maker Award, the 2021 winner of the Social Contribution Award presented by the Korea Hana Foundation, and in 2022 he was awarded Seoul Honorary Citizenship. He is co-director of Giving Tuesday Korea, co-chair of the Coalition on the 1969 Korea Airlines Hijacking, and a lecturer in public speaking at the Seoul University of Foreign Studies.
Lartigue received a bachelor's degree from Harvard University Extension School and a master's degree from Harvard University Graduate School of Education.
Additional Information:
Registration closes three (3) hours before the event. This event is free, but you must register to receive the Zoom link for the event. A confirmation email with a Zoom link will be sent the day before the event and a reminder the day of the event.
Time: 12 PM EDT
Date: February 1, 2023
Location: Virtual via Zoom