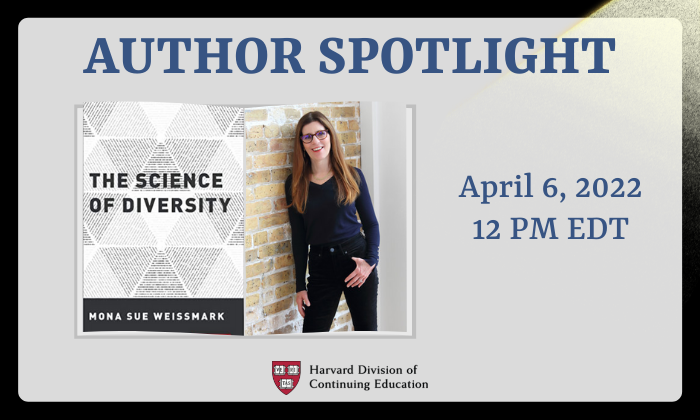 Join us for our Author Spotlight Series featuring Harvard Extension School instructor and noted author, Dr. Mona Sue Weissmark. Dr. Weissmark will discuss her book "The Science of Diversity" and answer your questions live.
About the book:
The Science of Diversity uses a multidisciplinary approach to excavate the theories, principles, and paradigms that illuminate our understanding of the issues surrounding human diversity, social equality, and justice. The book brings these to the surface holistically, examining diversity at the individual, interpersonal, and international levels. Shedding light on why diversity programs fail, the book provides tools to understand how biases develop and influence our relationships and interactions with others.
About the Author:
Dr. Mona Sue Weissmark is an award-winning professor, researcher, and author. She is also a clinical and social psychologist. Her work on the science of diversity has received global recognition.
She is best known for her groundbreaking social experiment of bringing together descendants of slaves and slaveowners, and descendants of Holocaust survivors and Nazis at Harvard University; and her work on the outcome of psychotherapy treatment. She teaches the courses 'Advanced Research Methods' and 'Psychology of Diversity' and heads the science of diversity research lab at Harvard University.
Dr. Weissmark's new book The Science of Diversity was selected by Oxford University Press as one of nine essential titles on the frontiers of psychology research. The Science of Diversity was selected based on its cutting edge perspective on racism and hate. Read more about Dr. Weissmark here.