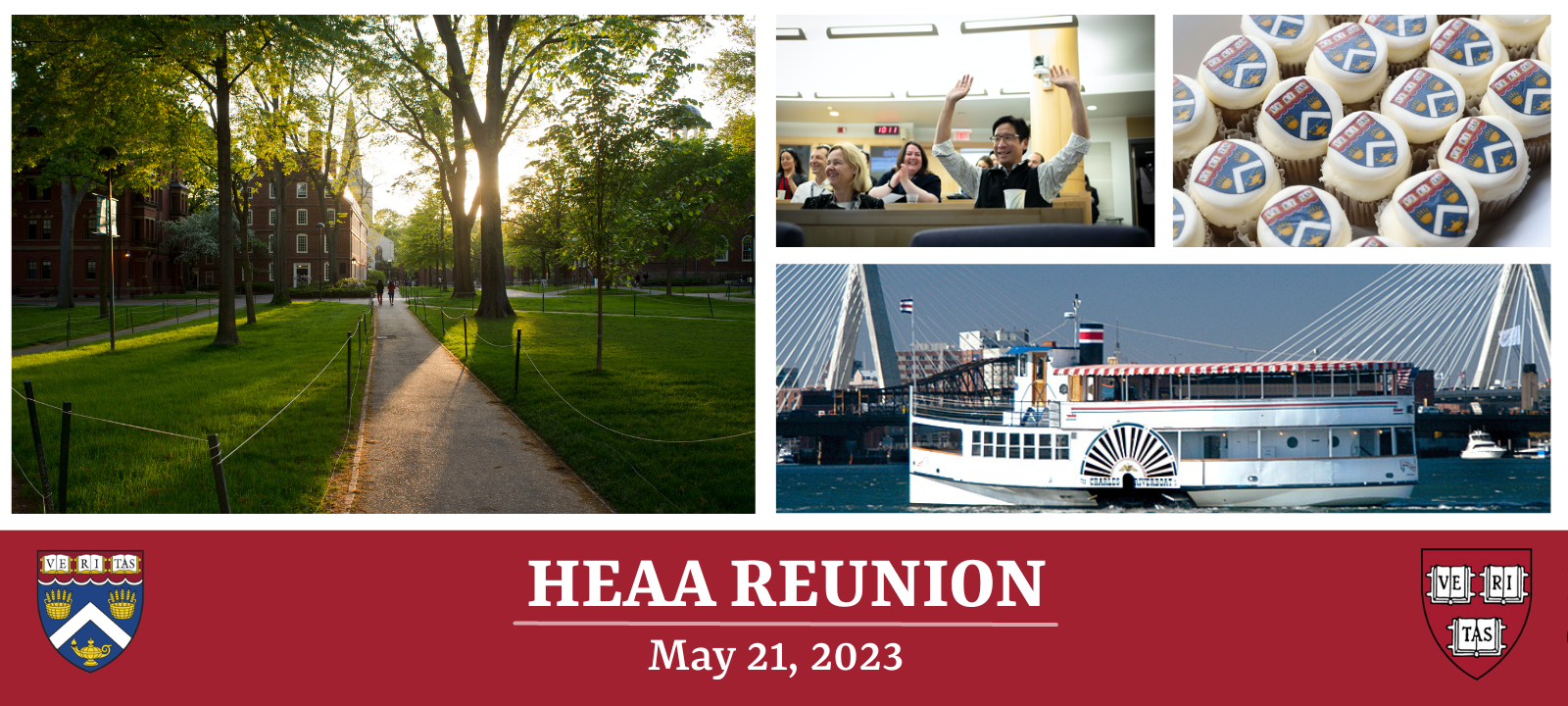 HEAA Reunion 2023 is sold out! Join the waitlist.
HEAA Reunion 2023 incorporates your favorite events, including the Keynote Faculty Presentation led by renowned Harvard instructor and real estate entrepreneur Teo Nicolais on "Winning in the 21st Century," a luncheon in the Yard with Nancy J. Coleman, Ed.D. Dean, Harvard Division of Continuing Education and University Extension, and a dinner cruise on Boston Harbor aboard the Lexington, a 75' authentic two-level paddle wheel boat! We look forward to seeing you in May for a festive reunion. See the full schedule of events below.
Pricing:
HEAA Reunion 2023 registration is available for a flat fee, plus a registration fee of $5. This includes all activities, including round-trip transportation to the Boston Harbor Evening Cruise. The registration fee helps to defray the fixed costs of the HEAA Reunion. Fees are per person.
Registration Fee: $5 per person
On-Campus Activities: $95 per person
*Children under 2 do not need a ticket.
Full Schedule of Activities
Sunday, May 21, 2023
All times are ET
8:30 AM – 10:30 AM: Registration & Breakfast
Location: Boylston Hall, Harvard Yard
10:30 AM – 1:00 PM:
1:00 PM – 2:30 PM: Luncheon in the Yard with Dean Coleman
2:30 PM – 3:30 PM: Connect & Explore
Visit the Harvard Art Museums, or the Harvard Coop!
3:30 PM – 4:15 PM: Q&A: Meet the HEAA Board of Directors
Are you interested in learning more, or getting involved with the HEAA? Don't miss this opportunity to meet members of the HEAA board of directors.
6:00 PM – 8:00 PM: Boston Harbor Dinner Cruise aboard the Lexington
*Shuttle transportation to/from campus will be provided. Shuttle times & pick up location will be provided in your welcome packet.
Questions? Contact alumni@extension.harvard.edu