October 21, 2019
Hello fellow alumni,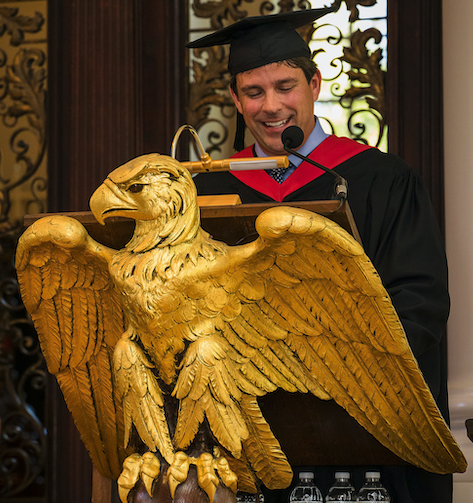 This month I had the absolute privilege to participate in Harvard Extension School's Convocation held at Memorial Church. This was an exceptional event for newly admitted degree candidates. The space was full, with over seven-hundred students and their families. The energy and excitement in the room was so very tangible and uplifting for all.
It was exciting to talk with members of this remarkable class of future graduates. Many of them are working, while pursuing a degree. This is a hallmark of our program, and different from the other Harvard schools.
"Most of you are full-time professionals with at least 10 years of work experience," said Suzanne Spreadbury, Dean of Academic Programs & Chief Academic Officer. "Well over 100 of you are men and women who are veterans of our U.S. armed forces or who are courageously serving in our active military — likely the largest admitted cohort of military students at the University."
Yet, it's the reality of how the future workforce will be skilled and reskilled over time. We are living longer, working longer, getting more educated. Our labor force is having multiple careers over the span and even "encore" learning and careers, post retirement. The Harvard Extension environment molds a dynamic individual, that is balancing work, family, and school. With periodic travel to campus, it's even more complex.
Harvard Extension School is on the cutting edge of higher education's future and one's personal 60-year curriculum. The technology platform we are using give us the ability to have a leapfrog effect over the traditional lecture. Our live global classes are unmatched.
On the other side, we find employers that want to hire a workforce that knows how to get things done. We produce multi-dimensional, curious individuals. Employees that have unique mixture of gritty determination and professionalism.
Finally, I was reminded that when you complete this program, you simply cannot leave without taking on the responsibility that this institution imbues upon you, to lead and make real difference.
Harvard challenges all of us, to create positive change in the world. We don't stand still, we don't just pass through.
Michael Fabiano ALM '16
michaelfabiano@alumni.harvard.edu