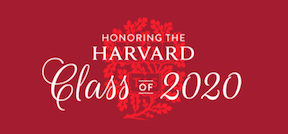 June 29, 2020
Hello fellow alumni,
Having worked so hard for their degrees, I wanted to take yet another moment to congratulate the Class of 2020. On behalf of all alumni around the world, I welcome you to the Harvard global alumni community of over 371,000 individuals.
The COVID-19 pandemic has disrupted the rituals and daily lives of most of the world, beyond what was even imaginable in early 2020. I hope you and your family enjoyed the University's historic inaugural Virtual Commencement. We look forward to celebrating the Class of 2020, all together with full pomp and circumstance in Tercentenary Theater, just as soon as we are able.
Part of the Harvard experience, in my view, is each of you having the personal vision to take the first steps in enrolling in classes and then having the strength of character to finish. If you can do this, think of what more you can accomplish in your lifetime.
My own experience was, transformative. Working full time, attending classes, meeting family obligations – balancing all of this takes enormous intellectual drive and self-discipline – we are not the same people on the other side. I have met thousands of alumni traveling to various Harvard alumni events around the world. The shared characteristics are striking. I see a passionate group of global leaders and changemakers.
The Harvard experience imbues upon us the desire to make a difference.
Our world is very complex today and at this very moment it is affecting all of us greatly and in distinctly different ways. We are experiencing the greatest pandemic in one hundred years, economic instability, sustained protests, and political divisiveness. In the midst of this, I encourage all of you to find inspiration. Always think about what Harvard stands for and be global citizens, making a point to improve ourselves and elevate our discourse in all your interactions.
Our global Harvard alumni community is thrilled to welcome you and is here for you, always. A sincere congratulations, and once again, welcome to the Alumni Association.
Stay safe.
Michael
Michael Fabiano ALM '16
michaelfabiano@alumni.harvard.edu