December 16, 2019
Hello fellow alumni,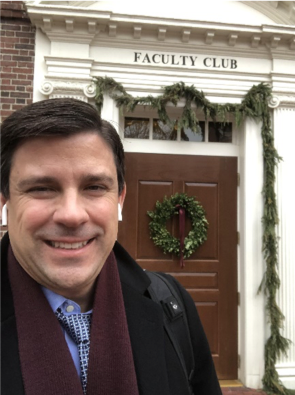 I was on the Acela express train to Boston this month for a meeting at the Harvard Faculty Club serving on the advisory board for the Journalism Program at Harvard Extension School.
As luck would have it, on part of the trip, I happened to be seated next to a Harvard professor that teaches in a few of our graduate programs. During our brief conversation, which I will paraphrase, he said it best. "I just love teaching Extension school students. They bring real world experience daily, enriching the conversation. These are some of the best classes I have taught".
Receiving a master's degree from Harvard Extension is one of the few programs where you can work full-time and go to school full-time or part time, depending on how you create your schedule. Hearing these realities, from students around the world, was critical to enriching my own experience. The merging of the classroom and the practical simultaneously, is what differentiated each of our individual journeys.
My journey at HES was rooted in the Journalism Program, a program that is now fifteen years old. We have a great advisory board and alumni working all over the world in key media companies.
Like so many industries, Journalism is undergoing transformative changes in technology and business models…changes that are incredibly exciting. Journalism today is filled with new roles that involve data sciences and visualization, artificial intelligence (machine learning and natural language processing), data journalism, digital product development, video innovation, augmented reality, drones, image recognition technology and much more.
My HES journey prepared me to help determine the future strategy of the AP, as the next inflection point of streaming media is transforming the company in real time.
Now, I ask you: what made your HES journey special and how are you transforming your industry or the world?
I wish all of our talented alumni around the world, a fantastic holiday season.
Michael Fabiano ALM '16
michaelfabiano@alumni.harvard.edu