February 14, 2020
Hello fellow alumni,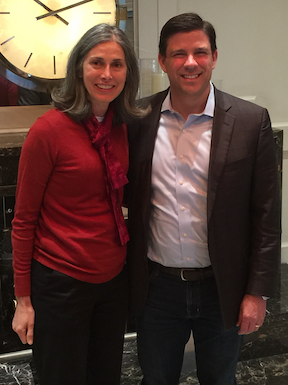 I had a wonderful opportunity this month to spend time in Los Angeles the morning after the Academy Awards with Christine Leunens A.L.M. '05.
The hit movie, Jojo Rabbit, based on Christine's award-winning second novel Caging Skies, had just won an Oscar for the best adapted screenplay.
Jojo Rabbit received an incredible six Oscar nominations on Jan. 13th, including the nomination for Best Picture. These nominations alone are a major accomplishment. A hearty congratulations to Christine!
Harvard Extension School was essential to Christine's process for writing the book Caging Skies. She described her educational experience as critical in providing the foundation for understanding how to research in depth, and how study, critical analysis, and dynamic class discussion of great works of literature brought her further in her own writing.
We also discussed the benefits of advanced degrees and we mutually agreed on a few concepts.
Flexibility and Choice – Our master's degrees offer us flexibility in our careers to pursue other options. People are simply working longer and it's not uncommon to have second, third and encore careers. I personally have changed my career once so far. Having choice in our lives is empowering.
Adaptability – The jobs of the future are not the same as the ones we currently have. As we build skills and credentials, we retool along the way. Through HES and HEAA we establish a mental model of continuous learning. Remaining teachable and adaptable is key to a long and productive career.
I encourage our alumni to pursue large, transformational ideas that make a difference in our world. We have a tremendously accomplished alumni association and it's important to continue to engage across Harvard schools.
If you are inspired to write a book based on this post, consider that the process of adapting Christine's book to film started in 2010. The movie was ten years in the making.
It's a long walk to Hollywood for short drink but well worth the investment of time and energy. Have a great month.
Michael Fabiano ALM '16
michaelfabiano@alumni.harvard.edu